Yves Saint Laurent Volume Effet Faux Cils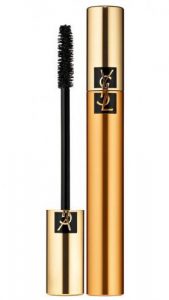 Desired effects
Yves Saint Laurent Volume Effet Faux Cils has been designed to lengthen, thicken and curl lashes, nourishing them as well.
Working
YSL Volume Effet Faux Cils contains complex that coats lashes three times aiming at thickening (first coat), nourishing and curling (second coat) and setting the effects (third coat). Which of the promises turn to reality? According to reviews? None. A mascara, which was supposed to give the long-lasting effect of spectacularly long, thick and curled lashes, is actually barely visible. Unnatural lash color is the only thing that lets you spot the mascara is on your lashes.
Volume Effet Faux Cils is a waterproof, long-wear mascara yet the effect is not at all mind-blowing. Even a nylon-bristle brush made of fibers having different thickness, which was to provide an effortless volume boost, doesn't fulfill its purpose.
Assets
Yves Saint Laurent Volume Effet Faux Cils neither falls on cheeks nor gets on eyelids
Flaws
no spectacular effect (instead – the effect of colored lashes),
dries quickly,
taking it off is a challenge,
the high price is inadequate to the product's quality.
Back to Ranking