Dimension de Chanel Mascara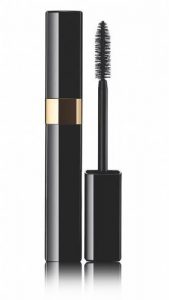 Desired effects
Dimension de Chanel Mascara is meant for thickening, extending and curling lashes. Moreover, it is supposed to separate them and consequently make the application run smoothly.
Working
Dimension de Chanel is designed to ensure eye make-up with just one coating, resulting in longer, thicker, fuller-looking and intensely-black lashes and bigger-looking eyes. A volume boost effect was supposed to be owed to the shape of a wand and fluid formula. Too bad, both turned out to fail. Reviews say that the wand makes the precise application harder whereas the allegedly fast-drying formula smudges the eyelids.
The content of Arabic gum is another asset of Dimension de Chanel that the manufacturer declares. The gum was supposed to give a long-lasting curl and increase volume with next layers. Opinions say that one of the biggest drawbacks of the mascara is the lack of curl effect (contrary to the manufacture's promises). Unfortunately, lashes are getting more and more clumpy 'with next layers'. Apparently, ingredients, which were meant for delivering elasticity and smooth application, failed as well.
Assets
Dimension de Chanel doesn't trigger eye irritation,
lengthens and minimally thickens lashes,
delivers an intense color.
Flaws
it isn't long-wear,
transfers to eyelids,
no curl effect,
clumping formula,
the wand prevents applying an effective eye make-up,
really pricey.
Back to Ranking