Sumptuous Estee Lauder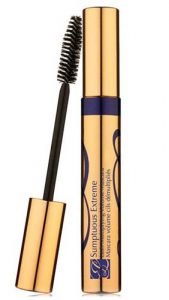 Desired effects
Sumptuous Estee Lauder intended to increase volume of lashes, lift and thicken them without weighing down.
Working
The brand says that the wand – which is supposed to guarantee thickening and combing – is the asset of Sumptuous Estee Lauder. As suggested by reviews, the wand spiral gives the effect of minimally thicker lashes, which may be a benefit for the natural make-up fans. The lash separation isn't the mascara's strong side either – it tends to make lashes clumpy.
The formula containing lightweight lash-thickening fibers was to guarantee the effect of lash lift and curl. Interestingly, none of the users said anything about this feature of the mascara. Lack of opinions – positive or negative ones – makes us doubt this quality.
Assets
Sumptuous Estee Lauder is suitable for contact lens wearers,
it has no scent (which isn't comfy for some users),
minimally thickens for a natural lash look.
Flaws
clumps lashes together,
fails to add volume,
dries quickly,
minimally thickens,
hard to take off,
flakes and falls on cheeks,
no WOW effect,
a very high price.
Back to Ranking