Bourjois Twist Up The Volume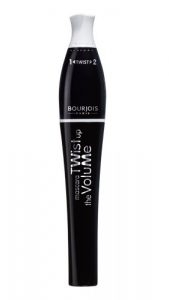 Desired effects
Bourjois Twist Up The Volume is to add volume, extension and separation, and gift lashes with a bold color.
Working
Use the wand in two ways. The first position is to lengthen and comb lashes, facilitating coating throughout lashes' length. The other position – after twisting the tip – should guarantee an intensified clump-free volume. A smooth consistency theoretically makes it possible for you to apply several coats.
That was the theory. What it looks like in practice?
Reviews suggest that the consistency is watery rather than smooth and consequently – leaves marks on eyelids. Considering the mascara being long-wear (yes, too bad, that's the promise that the producer delivers on), it is hard to take the marks off without damaging other make-up elements at the same time. To make things worse, the mascara sticks lashes together, which rules out the possibility for a numerous application – another asset the brand declares.
An intense color is an asset of Twist Up The Volume Mascara. Reviews point out that this benefit doesn't balance numerous downsides of the product and the exorbitant price.
Assets
Bourjois Twist Up The Volume is long-wear,
delivers the effect of bold black color.
Flaws
consistency: turns from clumpy and watery to dry,
sticks lashes together,
gets on eyelids,
hard to take off,
a high price.
Back to Ranking