TOP 5 – Ways of having permanently long and beautiful lashes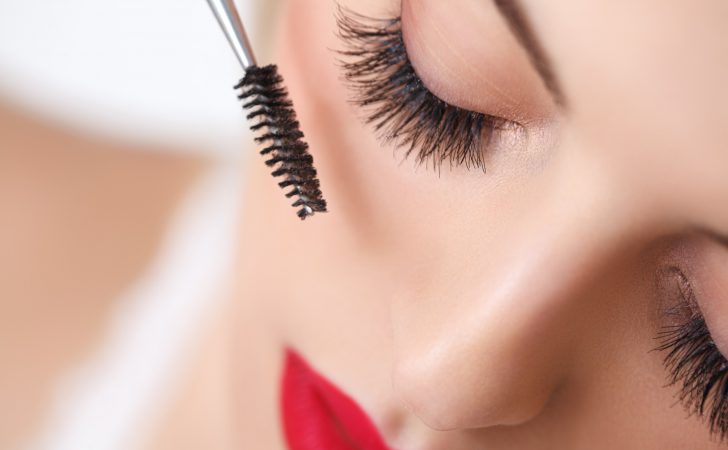 Stunning eyelashes are the synonym of what's feminine, therefore this trend won't definitely disappear from the aesthetic canon. Butterfly wing lashes won't leave the pedestal, they won't let take over the podium easily. Each of us wants to make the lashes look flawless, long, romantic, dark and fully-fanned-out. How to get long eyelashes – is it possible to help Mother Nature a little bit and enhance the appearance of lashes due to make-up, or by using any other clever tricks? Of course, it's! Today, we're going to reveal the best ways to extend lashes.
TOP 5 Tricks and the best techniques to extend your lashes
1. A mascara with a high-quality wand
Indeed, it seems to be obvious but sadly most women don't follow their common sense while choosing a mascara brush. For some reason, we're wrong in terms of assessing which qualities make a mascara wand distribute the product easily along the lash length. It appears that a big mascara wand doesn't always serve its purpose since it frequently stains eyelids and can't be described as precise. Also, instead of adding volume and extension – it just leaves eyelashes clumpy.
Another bad idea is trusting nylon brushes, so-called hairy wands, which were popular a decade ago. Definitely better, more professional and dealing with clumps are silicone mascara wands. This is the very mascara brush type that was designed to do precise eye make-up. They separate lashes and extend their length simultaneously building-in the hairs volume.
Which shape of a mascara wand is found as the best one? Go for the applicator which bristle isn't arranged too widely. Ellipse shape is another desirable quality of a good mascara brush. This shape's ergonomics allows you to effortlessly coat each lash, even the shortest one.
2. Powder the lashes
Transparent loose powder might appear to be your ally in the fight for long lashes. This powdery trick is frequently done by professional make-up artists. How to do it? Apply the first coat of a mascara and before it dries out try to put loose powder on (e.g. rice or bamboo – these two are the most delicate). Naturally, take this step having your eyes closed and don't overdo with the amount of the powder – after all, it's task is to delicately dust your tiny lash hairs. Basically, you can use either a big brush or a puff to apply the powder with. Now, you can go on to apply another mascara coat. The effect is stunning, isn't it?
3. Fibres in mascara
Many present-day mascaras feature special micro-fibres (e.g. nylon-6). Despite being tiny, they are able to plaster the lashes. Their task is to build-in volume on each lash so as to extend and bold it considerably. Indeed, the result might be highly satisfying, however, a lot depends on the mascara, its formula and the type of fibres used. Sadly, most of them flake off after a few hours, therefore people having sensitive eyes or contact lens wearers should refrain from using mascara featuring fibres.
4. Eyelash serum
Eyelash serum is recognized as one of the most iconic cosmetics of the decade. Never before have women the opportunity to take care of their lashes so effectively. Eyelash serums contain an array of substances responsible for improving condition and looks of lashes. Still, the most important task of this kind of lash boosters is to stimulate eyelash growth. Thanks to this the tiny hair can grow far longer than they are normally able to. The effects are noticeable after a few weeks and frequently take the form that can be compared to false extensions. The best eyelash serums are said to regenerate and reinforce lashes within just a month. Additionally, they fortify eyelash bulbs which makes the hair grow darker, stronger and thicker. Finally, the entire lash line becomes thicker as well because the eyelash serum stimulates the 'sleeping' bulbs, too.
5. Zigzag on lashes
That's the fastest way to boost eyelash volume and length. Although it doesn't deliver as spectacular effects as the above-mentioned methods, but it provides immediate thickening and good-looking eye make-up. When you are coating your lashes with a mascara, move the wand from one side to the other, creating a well-known zigzag motion. Thanks to this, the mascara coats each lash hair evenly, separates them and builds volume form the base. Such motion leaves eyelashes well-styled and prevents clumps.
Back to Ranking