Naturally long lashes. How to enhance their growth?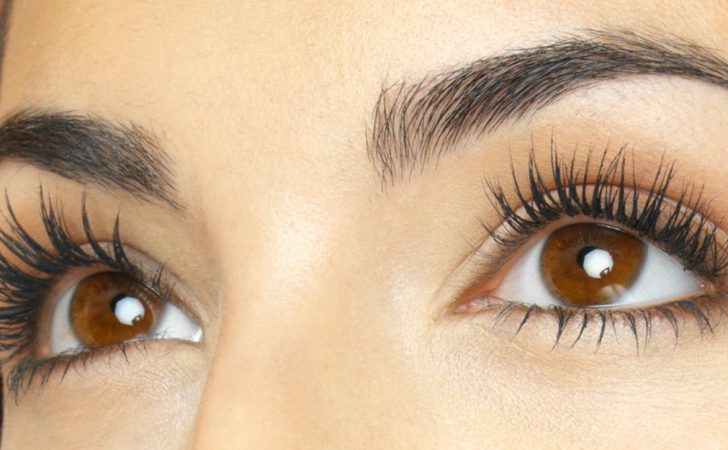 Eyelashes are located in a very visible place – they are on the face and very close to the eyes. Neglected lashes will be immediately noticed, so you should take special care of them. How to accelerate their growth? How to properly remove make-up and comb the lashes? Are diet and eyelash serums enough to make them grow stronger? Check how to get beautiful eyelashes.
How to enhance the growth of eyelashes?
Make-up removal
Contrary to the common belief, make-up removal does not involve applying a cotton pad moistened with micellar water or two-phase make-up remover and rubbing the eye with it. This action will result in skin irritation under the eyes, eyelash loss and unremoved make-up. Instead, it's better to use oils for this purpose. Particularly recommended is castor oil, that not only removes the make-up but it also accelerates the growth of eyelashes. It should be applied with the use of a brush and left overnight. Castor oil can be used alone or in combination with other oils, for instance argan, coconut or watermelon. Instead, it is better to use oils. Particularly recommended for this oil is castor oil, which not only effectively removes make-up, but also has a beneficial effect on eyelash growth. It should be applied with a brush and left overnight. Castor oil can be used alone or in combination with other oils, for example argan, coconut or watermelon. Oil treatment is effective when it is done regularly for at least 3 weeks.
Brushing eyelashes
This is definitely a care treatment that should be done every evening after removing make-up. Use a special comb or natural bristle brush to brush your eyelashes for a few minutes. In this way, we stimulate hair growth. At the end you can spread petroleum jelly over the eyelashes and delicately massage. This will improve the blood circulation so that the hair follicles are well-stimulated.
Diet for eyelash growth
The methods mentioned above will not work if our diet is not balanced and rich in nutrients. Include products containing vitamins (A, C, D, E and H and from group B) and minerals (calcium, iron, zinc, copper and silicon). You will find them, among others, in eggs, cheese, nuts and pumpkin and sunflower seeds.
Eyelash growth serum
The quickest results are provided by a ready conditioner for eyelash growth available in drugstores or a pharmacy. Unfortunately, these types of preparations have side effects caused by the content of an active substance. Bimatoprost, in question, is used in glaucoma medicines and reduces intraocular pressure. Although its concentration is small, the treatment itself takes a long time. Even worse, no matter how careful we are, bimatoprost will sooner or later get to the eye, where it will probably do a lot of damage. What kind of damage? Its direct contact with the eyeball causes vascular injection, pruritus, headache, conjunctivitis, deterioration of visual acuity, or vision disorders.
Those who want to enhance the growth of their eyelashes can choose between natural methods, although they require patience and regularity, and ready-made, which bring quick results but at the same time can cause serious side effects.
Back to Ranking